January 23, 2013 at 10:00 am
By Paul Thornton
On the troubling case of teenager Jahi McMath being kept on a ventilator despite doctors' declarations that the 13-year-old is dead, I've written before that most of the reader reaction has been compassionate toward her parents but unsparingly critical of the outside groups and the lawyer making a cause celebre out of the situation.
Now that the lawyer — Chritopher Dolan — has penned a stinging rebuttal in The Times to his critics and the critics of Jahi's family (he calls those critics "self-righteous"), readers are once again coming down hard on him. A few are even growing less patient with the parents, and some note the biological processes about setting in that will further prove Jahi is dead.
Here are some of those letters, a few of which may be printed in The Times later this week.
Manhattan Beach resident Charles Reilly says Dolan has given his clients poor counsel:
"After reading Dolan's article, it's easy to identify the true culprit in this sad case: Dolan himself.
"Nearly all Americans can sympathize with the family over Jahi's irreversible condition. What they do not care for is a lawyer who, through his own self-interest, has given this poor family bad advice and prolonged their agony.
"This case has nothing to do with personal rights; it has everything to do with being honest to one's clients. No one can blame Jahi's mother for fighting for the life of her child. But as painful a duty as it is, Dolan should have long ago explained to her that there is no real life left in her child. God does not have her heart beating. Sophisticated medical equipment has kept her heart beating.
"The child will never recover, and Dolan must know this to be true. Hopefully, this tragic situation will soon resolve itself through the natural order of things and Dolan can then, as he wishes for Jahi's family, disappear from the public spotlight."
Thousand Oaks resident Mark Diniakos questions Dolan's sincerity:
"Dolan's plea to let Jahi's family 'disappear from the public spotlight' leads to this obvious response: If that is his sincere wish for them, why write an Op-Ed piece for The Times?"
Gary Dolgin of Santa Monica says there's no right to keep a dead person hooked to a ventilator:
"Self-promotion evidently trumps logic in Dolan's sanctimonious screed.
"Among the more outrageous of Dolan's contentions is his conflation of contraceptive and abortion rights with the purported 'rights' to keep a brain-dead relative hooked to a respirator indefinitely.
"That argument wouldn't fly in the antiabortion redoubt of Texas. There, a constitutionally dubious state law is being used to keep a pregnant brain-dead woman on a ventilator — in an ill-considered effort to render her fetus viable — contrary to advance-directive wishes she and her husband expressed.
"Whatever one's religion, she should have no right to contravene a standard for determining death universally accepted by this country's physicians."But Dolan is right about one thing: Jahi's family needs to 'disappear from the pubic spotlight.' And that will happen as soon as the family removes Jahi from her ventilator."
Devra Mindell of Santa Monica takes a swipe at religiously motivated laws that contravene science:
"Dolan refers to an anomalous New Jersey statute providing for personal religious belief to supersede medically sound determination of brain death — as if that legal aberration merits serious consideration elsewhere.
"What he doesn't disclose is that New Jersey's law was passed in 1991 at the behest of a tiny religious minority and, after 23 years, only one other state has enacted anything similar to that law. A similarly ill-conceived, religiously prompted law, in force in Rhode Island for centuries, allows uncles to marry their nieces if they are part of that same religious minority. No other state allows incestuous unions of this sort.
"Dolan's harangue hardly helps his clients. Rather, it serves to emphasize the importance of keeping religion out of statehouses and hospitals."
Jahi McMath's body continues to deteriorate… by SyndicatedNews
PHOTOS: Grief, determination in Jahi McMath case

"The medical team and I believe that additional and more dramatic signs of the body's deterioration will continue to manifest over time, regardless of any procedures and regardless of any heroic measures that any facility in the country might attempt," Flori said in the declaration filed in U.S. District Court.
"Mechanical support and other measures taken to maintain an illusion of life where none exists cannot maintain that illusion indefinitely," she added.
Jahi underwent surgery Dec. 9 to remove her tonsils, adenoids and uvula at Children's Hospital Oakland. She was declared brain-dead three days later after going into cardiac arrest and suffering extensive hemorrhaging in her brain.
At least three neurologists confirmed Jahi was unable to breathe on her own, had no blood flow to her brain and had no sign of electrical activity.
But Jahi's family members — who won a court order keeping her on a ventilator, and eventually permission to transfer her to an undisclosed care facility — have insisted she is alive as long as her heart is beating.
However, the family's attorney, Christopher Dolan, told the San Jose Mercury News this week Jahi's body has deteriorated badly in the weeks since she was declared brain-dead.
"She's in very bad shape," he said, adding examinations show Jahi's medical condition "is not good."
Bodies of the brain-dead have been maintained on respirators for months or, in rare cases, years. However, once cessation of all brain activity is confirmed, there is no recovery, Rebecca S. Dresser, professor of law and ethics in medicine at Washington University in St. Louis, told The Times.
Dresser also served on a presidential bioethics council that in 2008 reaffirmed "whole-brain death" as legal death.
Brain cells die without blood flow and autopsies in such cases have shown the brain liquefies. 
In the court declaration filed by Flori, she said any measures to help Jahi will only slow post-mortem deterioration. Jahi's body is also unable to regulate her temperature and "blankets are needed to maintain a temperature of greater than 35 degrees Celsius (95 degrees Fahrenheit)."
"The additional medical interventions Petitioner proposes are unprecedented. They simply will not bring her back to life nor enable others to do so," according to the declaration.
After marathon negotiations with a federal magistrate, Jahi's family members received approval to remove her body, while attached to a ventilator, from Children's Hospital Oakland on Sunday.
The girl was released first to the Alameda County coroner and then to the family, and is now the responsibility of her mother, who has moved her to a facility that has not been identified because of threats Nolan said he and her family have received.
The courts have so far agreed that Jahi is dead. The coroner Friday issued a death certificate listing Dec. 12 as the date of death.
http://www.latimes.com/local/lanow/la-me-ln-jahi-mcmath-body-deteriorating-20140108,0,4831276.story#ixzz2px6wam00
SAN FRANCISCO — It started out as an operation to treat an increasingly common medical problem in America, childhood sleep apnea. It has become an anguished fight over the fate of a 13-year-old girl who, though pronounced legally dead by doctors, remains alive in the opinion of her religious parents.
Sam Singer, a spokesman for Children's Hospital, called the deal a victory for the hospital, which will release the girl to the Alameda County coroner.
The girl, Jahi McMath, was declared brain-dead after complications from surgery on Dec. 9 at Children's Hospital Oakland, which wanted to remove her from a ventilator. But her heart continues to beat, and her family protested the removal in court, so she has remained connected to the machine.
On Friday, amid acrimonious battles in three courts, an Alameda County Superior Court judge mediated an agreement that could allow the child to be moved to another facility willing to take her, even though the hospital has declared her dead.
As arguments in the courts continue, the girl will remain connected to the ventilator at least until Tuesday, under the judge's order. In the meantime, family members are scrambling to identify a facility that will accept the girl and doctors willing to carry out procedures that will keep her heart beating during the transfer.
Nailah Winkfield, the girl's mother, said she was hopeful that Friday's agreement would facilitate her daughter's move.
"I believe in God, and I believe that if he wanted her dead, he would have taken her already," Ms. Winkfield, a Baptist, said by phone. "Her heart is beating, her blood is flowing. She moves when I go near her and talk to her. That's not a dead person."
Jahi was admitted to Children's Hospital last month, and underwent three surgical procedures that included removing her tonsils and adenoids. She subsequently "suffered serious complications" that resulted in her death, according to court documents submitted by the hospital. The family's lawyer said in a court filing that Jahi suffered "large blood loss and, as a result, she suffered a heart attack and a loss of oxygen to her brain."
The hospital determined two days later that the girl was legally dead, and later sought to remove the ventilator. The family objected, asserting that the heartbeat was proof that she remained alive. In a document filed in Federal Court, the family's lawyer stated that the girl's parents are "Christians with firm religious beliefs that as long as the heart is beating, Jahi is alive."
Doctors who have examined the girl, including a court-appointed neurologist, have all declared her brain-dead. The judge issued a temporary restraining order blocking the hospital from removing her from the ventilator. The order was extended until Tuesday.
Judges in three separate courts have turned down the family's request to order Children's Hospital to insert tracheotomy and feeding tubes so she can be transported to another facility. Hospital officials have said that they would not allow the procedures to be carried out on the premises.
The family has attacked the hospital, saying it is effectively standing in the way of Jahi's move to another facility.
"We just want them to get out of the way," said Omari Sealey, the girl's uncle.
Christopher Dolan, the family's lawyer, said a few facilities had agreed to accept Jahi, including the New Beginnings Community Center in Medford, N.Y. The center, which treats people with traumatic brain injury and other disabilities, did not return calls seeking comment, but said on its website that Jahi "has been defined as a deceased person yet she has all the functional attributes of a living person despite her brain injury." It did not say whether it was prepared to admit the girl.
Under the agreement reached Friday, the hospital will release the girl to the Alameda County coroner, a move that will officially classify the girl as dead, before the family can transfer Jahi elsewhere.
"It is hard for a mother to receive a death certificate for a child who has a heart beating," Mr. Dolan said. "It's an awkward situation."
The agreement does not require the hospital to perform the procedures that will help the girl's heart to keep beating during the transfer, or to allow an outside doctor to carry them out on hospital premises, as Mr. Dolan had requested.
"This is an important medical and legal victory for our hospital and all medical facilities, that they can't be forced to perform surgery," said Sam Singer, a spokesman for Children's Hospital.
Lt. Riddic Bowers of the Alameda County Coroner's Bureau said that once the bureau issued a death certificate and a release form, a deceased person's relatives were free to dispose of the body according to their wishes.
David Magnus, director of the Stanford Center for Biomedical Ethics, said it was unlikely that a long-term care facility would accept a patient who has been issued a death certificate.
Children s Hospital Okland Dec 27 2013 Attorney Response to Esq Dolan Family Atty by SyndicatedNews
Children s Hospital Okland Dec 30 2013 Court of Appeal Filing by Family Online Document by SyndicatedNews
McMath Agreement by SyndicatedNews
Jahi McMath Temporary Restraining Order Extension by SyndicatedNews
Jahi McMath is brain dead by SyndicatedNews
Oakland, California (CNN) – A judge has concluded that 13-year-old Jahi McMath, who suffered complications after tonsil surgery, is brain dead. But it's unclear what will happen next to the California teen. An attorney representing her family told reporters they haven't decided yet whether to appeal the judge's decision, which came after a court-appointed doctor testified Tuesday that Jahi was brain dead. The judge has ruled that Jahi will remain on life support at least until December 30. Family members said they planned to spend Christmas in her hospital room, opening gifts and sipping hot chocolate.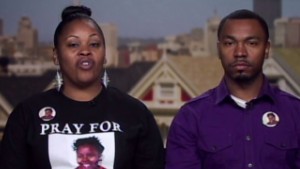 Mom sees improvement in brain dead teen
Earlier Tuesday, Children's Hospital & Research Center Oakland argued that the court should lift a restraining order that requires life support for the girl. "Because Ms. McMath is dead, practically and legally, there is no course of medical treatment to continue or discontinue; there is nothing to which the family's consent is applicable," the hospital wrote in court papers.
Standing outside the courthouse on Tuesday, family members said they were hoping for a holiday miracle while Jahi remains hospitalized. "Christmas is tomorrow, so it'd be great if she woke up tomorrow. … If this was your daughter, wouldn't you want her to wake up in the next five minutes?" said Omari Sealey, the girl's uncle. Mother: 'I won't stop fighting' for daughter Complications after tonsil surgery Jahi was declared brain dead December 12, three days after tonsil surgery. The case has drawn national attention and sparked protests from some local leaders who say the hospital should have provided better care. On Monday, a judge appointed Dr. Paul Fisher, chief of pediatric neurology at Stanford Children's Hospital, to evaluate Jahi as an independent expert. Fisher testified Tuesday that Jahi meets the criteria for brain death. Alameda Superior Court Judge Evelio Grillo previously ruled that the hospital must hold off on any decisions regarding discontinuing life support until December 30 and encouraged both sides to work together.
"This is a very, very charged case. The stakes are very high. There is a young girl involved, and I think it would suit both parties well if you would speak with each other about how we are going to get through the next few days," Grillo said. Attorney: Family needs to process judge's ruling Attorney Christopher Dolan said family members need to evaluate what the judge said on Tuesday before they decide on their next move. "This involves some very serious religious beliefs about life and death," he said. But he said he hoped the judge's decision sends a message to hospitals everywhere: "The parents come first."
"What this case represents legally is that parents can say no when a hospital says, 'We're pulling the plug.' They thought that a hospital shouldn't tell them their child was going to be removed from a ventilator," Dolan told reporters. Mom vows to keep fighting Mother Nailah Winkfield has said she'll keep fighting no matter what. "I'm going to support her. It's my job to do it. Any mother would do it," Winkfield said in an exclusive interview with CNN's "The Lead" on Monday. "I just want her to have more time. There are so many stories of people waking up in her situation." Doctors say people don't wake up from Jahi's situation and that in her arguments, Winkfield has pointed to cases in which the patient had brain activity. "Children's is currently merely preserving Ms. McMath's body from the natural post-mortem course of events. There is no legal, ethical or moral requirement that it continue to do so or that the family consent in the decision to stop doing so," the hospital's filing said.
We have the deepest sympathy for Jahi's mother, who wishes her daughter was alive; but the ventilator cannot reverse the brain death that has occurred and it would be wrong to give false hope that Jahi will ever come back to life," Dr. David Durand, the hospital's chief of pediatrics, said in a statement Monday. Winkfield told CNN on Monday that she'd seen recent improvements in her daughter's condition. A hospital monitor suggests her daughter is trying to breathe on her own, she said. "They told me without your brain, you can't take your own breath," Winkfield said. "Well, she's trying, so that means something's working."
Hospital says they're investigating Durand said Monday that hospital officials are looking into the matter and are "committed to learning what led to this catastrophic outcome." "We are sorry that Jahi McMath suffered tragic complications from her complex surgery," he said. "Our hearts go out to the grieving family and community about this sad situation." In its court filing Tuesday, the hospital also fought against a request by Winkfield to bring in Dr. Paul Byrne as an expert to study the case. Byrne, a neonatologist and pediatrician, wrote on the website RenewAmerica.com that he believes "Jahi is not truly dead." The political site pushes its view of the Constitution. He is "a crusader with an ideology-based bias," and is "neither a neurologist nor a California physician," the hospital argued. When routine surgeries go wrong CNN's Dan Simon reported from Oakland. CNN's Catherine E. Shoichet reported from Atlanta. CNN's Josh Levs, Dana Bash, Elizabeth Chmurak and Stephanie Elam contributed to this report.